Former Russia and CSKA Moscow manager Slutsky has spoken highly of his former protégé, Monaco midfielder Golovin, stating that he has the ability to play for top Premier League teams such as Arsenal and Tottenham. Despite currently plying his trade in Monaco, Slutsky believes that Golovin's skills are on par with Arsenal captain Odegaard, but his current platform isn't as high. In this article, we will delve into Golovin's performances, Slutsky's comments, and provide a detailed analysis of his abilities.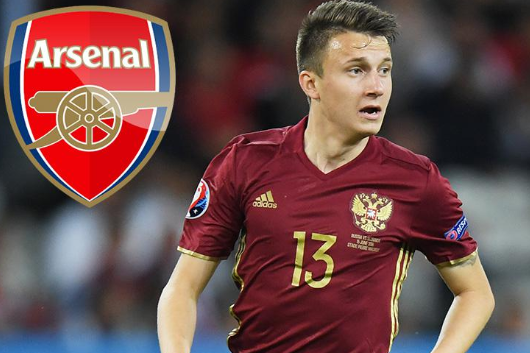 Golovin's name was frequently linked with Arsenal between 2016 and 2018 when he was playing for CSKA Moscow. During that period, Golovin even scored a direct free-kick against Arsenal in the Europa League. Although Arsene Wenger expressed interest in Golovin, a deal didn't materialize. After an impressive display at the 2018 FIFA World Cup, Golovin joined Monaco and has been with the club ever since.
Slutsky expressed his belief that Golovin has the potential to contribute to both Tottenham and Arsenal. While expressing his admiration for Martin Odegaard, whom he also coached in the past, Slutsky stated that Golovin is not any worse than Odegaard. He lamented the fact that Golovin hasn't landed on a higher platform and has become a figurehead for Monaco instead.
This season, Golovin has found his position as an attacking midfielder on the left under coach Jardim. He has become a focal point for the team. In Ligue 1, Golovin has made 10 appearances, all of them as a starter, with an average playing time of 87 minutes per game. He has scored 5 goals and provided 2 assists, and has also won a penalty.
In terms of attacking contributions, Golovin has scored 5 goals and attempted 17 shots. He has also provided 15 key passes and 2 assists, creating 1 excellent scoring opportunity. His pass accuracy stands at 79%. Defensively, Golovin averages 1.5 successful tackles per game and is dribbled past 1.1 times. He also wins back possession 4.2 times and commits 1.2 fouls per game.
In terms of his offensive skills, Golovin successfully completes 0.8 dribbles per game with a success rate of 62%. He is fouled 1.9 times per game and wins 5 duels per game with a success rate of 50%. Slutsky's endorsement of Golovin's abilities suggests that he has the potential to succeed at top Premier League clubs like Arsenal or Tottenham.
In conclusion, Golovin's performances for Monaco this season reflect his potential to play for top Premier League clubs. Slutsky's comments further highlight his abilities, comparing him to Arsenal captain Odegaard. While currently enjoying success with Monaco, Golovin's talents indicate that he could thrive at a higher platform such as Arsenal or Tottenham in the future.